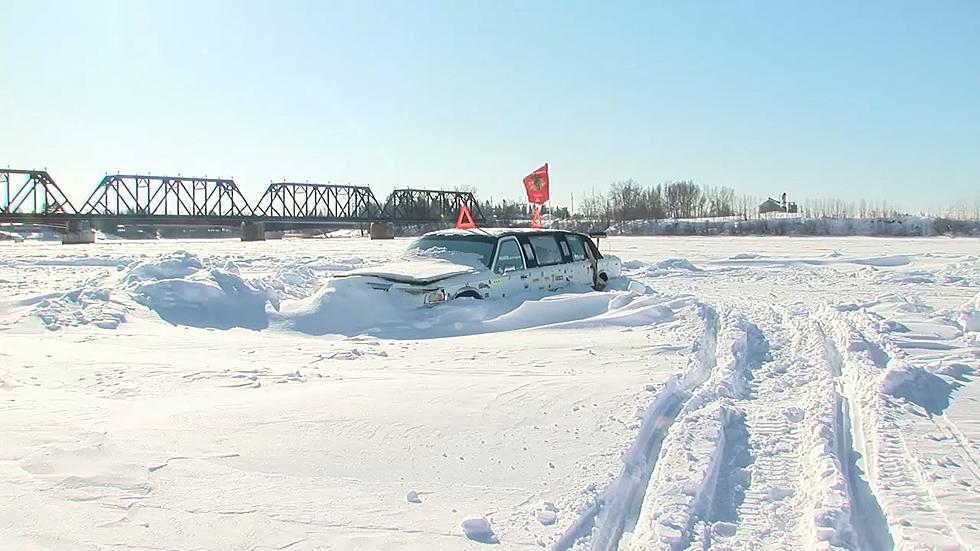 Check Out This One-Of-A-Kind Ice Fishing Limousine House Near Minnesota
tbnewswatch via YouTube
Looking for a fun and unique way to ice fish? Or just hang out on a frozen lake with some buddies? Check out this one of a kind limousine turned ice fishing house on the  Minnesota-Canadian border that you can rent.
Retired railroad conductor, Vaughn Murray has converted a 1994 Buick limousine into a very unique ice fishing shack. For $100 a day he will supply rods and bait and really anything you need to ice fish. It can seat up to four and there's an electric heater in the limo as well.
The stylish limo is located in Rainy River, the city border separating Northwestern Ontario and northern Minnesota. It's just a little over 190 miles North West of Duluth. Not only are there holes cut out in the bottom, there also some lovely Elvis memorabilia inside as well.
The unique ice house is definitely something different. Murray's former claim to fame was winning the National Enquirer's Ugly Mug Contest where he took home $500 and had his "ugly mug" plastered all over newsstands back in 2007.  Check out his segment when he made the news below of his fun business venture:
I've only been ice fishing a handful of times, but I think this sounds so fun. Definitely beats drilling your own holes like Cooper made me do once with a manual auger (check out that video here). I'm questioning the Chicago Blackhawks flag, but still looks like a fun way to spend the day if you find yourself up near the Canadian border.
Signs You're Becoming Your Minnesota Parents
Ever find yourself doing something or saying something that makes you think, "Oh my God I"m becoming my parents?" In Minnesota, we have some unique signs to look for. Take a self-check here and see what rings true.
6 Great Places To Fish From Shore In Duluth & Superior
More From Sasquatch 92.1 FM