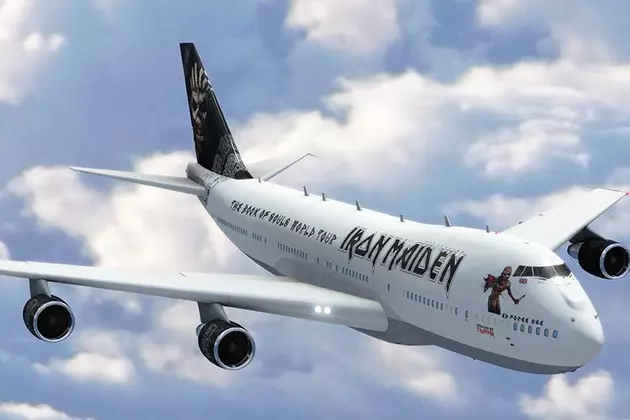 Iron Maiden's New Plane Is Too Heavy to Land at German Airport
Iron Maiden
Iron Maiden's got too much metal for Germany — or at least the runway at the airport in Dortmund, anyway.
Spiegel (via Bravewords) reports that the band had to alter its travel plans after officials realized that Maiden's new Ed Force One jet is too heavy for the runway. Instead of touching down in Dortmund on May 27 for their headlining gig at the Rock im Revier Festival, they'll land in Düsseldorf a day ahead of schedule and take a bus into town.
Scheduled for May 26-28, the 2016 Rock im Revier marks the festival's second year, and is set to feature a lineup that also includes Anthrax, Slayer and Tremonti. More information is available at the official event website.
As previously reported, Iron Maiden's new Ed Force One jet is an upgrade over previous models: instead of taking to the skies in their old 757-200, the band is sprawling out in a 747-400. According to singer Bruce Dickinson, the added room not only allows for increased comfort, it arguably ended up saving Maiden money.
"The greatest benefit of traveling in a 747 is that, because of its colossal size and freight capacity we can carry our stage production and all our stage equipment and desks in the cargo hold without having to make any of the immense structural modifications needed to do this on the previous 757," said Dickinson. "All we will need to do is 'paint' it and move a few seats around, with the added advantage that there is much more room for band and crew – our Krew can almost get a row of seats each to catch up on sleep on the flights!"
Iron Maiden Albums, Ranked Worst to Best
More From Sasquatch 92.1 FM