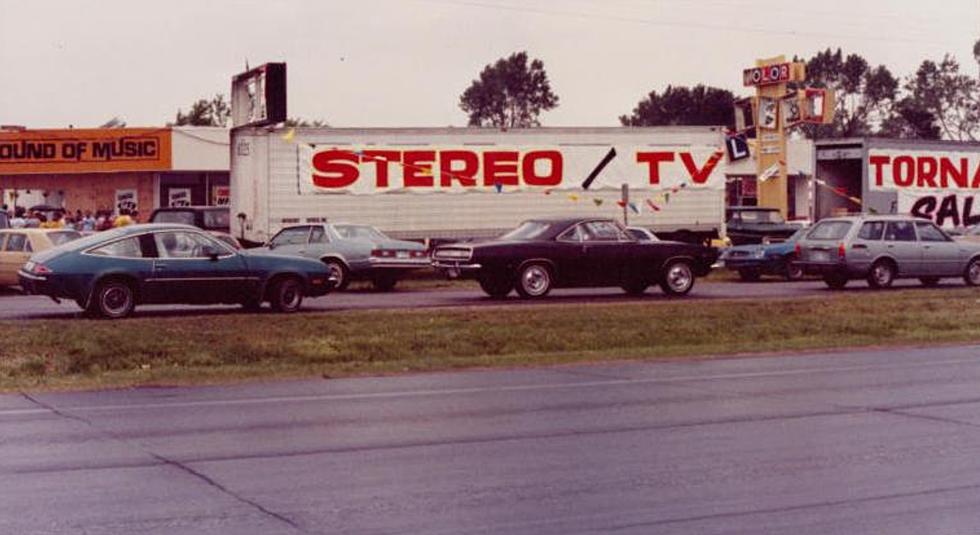 Silver Linings: Best Buy and The Mayo Clinic Both Started With a Tornado
1981 "Best Buy" Tornado Sale in Roseville, MN. Credit: Best Buy
There are no coincidences, right? Can something good come from something terrible, for instance a destructive tornado? It would seem the answer is a resounding yes. The June 14, 1981 "Har Mar Tornado" tracked from Lake Harriet to Roseville, in the Twin Cities suburbs, leaving behind a trail of destruction, 83 injuries and one death - the worst Twin Cities tornado in 20 years.
The Sound of Music store in Roseville was severely damaged, and according to Best Buy: "Speakers, turntables and VCRs were strewn throughout what was left of the building and into the parking lot. "It was the worst thing that could happen to us," company founder Dick Schulze said at the time.
All 65 employees chipped in, tried to clean up the mess, and in a stroke of genius decided to have a "Tornado Sale" where shoppers could browse the inventory and maybe grab a "Best Buy". The tornado literally changed Best Buy's business model, and the rest is history. Today Best Buy operates over 1,000 stores and employs 100,000+ people.
Not to be outdone, Minnesota's health juggernaut, The Mayo Clinic, was born after a horrific F-5 tornado, the strongest possible, hit downtown Rochester on on a hot and muggy August 21, 1883. The half-mile wide tornado killed 37 residents and injured over 200 more. Desperate to treat patients, Dr. William Mayo and his two sons, William Jr. and Charles, improvised, using a local dance hall as a makeshift emergency room.
The Mayo Brothers approached the Sisters of St. Francis with a request to provide care for the injured. Sister Mary Alfred Moes, called "Mother Alfred" by all those who loved her, was able to raise $40,000 from the community to construct a new hospital. Amazingly, that's the rough equivalent of $600 million dollars today. Dr. Mayo and his two sons would serve as surgeons and staff the hospital, with what amounted to a handshake deal between Dr. Mayo and Mother Alfred.
Today the Mayo Clinic has a global workforce of 76,000 people and over $20 billion in assets.
All thanks to a devastating F5 tornado. Sometimes good things come in bad packages.
There is order to the apparent madness. On rare occasions, even something as tragic as a killer tornado can set the stage for something remarkable.
12 Celebrities Who Have Been Patients at Mayo Clinic in Rochester, Minnesota
When you are one of the best hospitals in the world, you are going to attract some celebrities. The Mayo Clinic in Rochester, Minnesota has seen quite a few throughout its history.
More From Sasquatch 92.1 FM