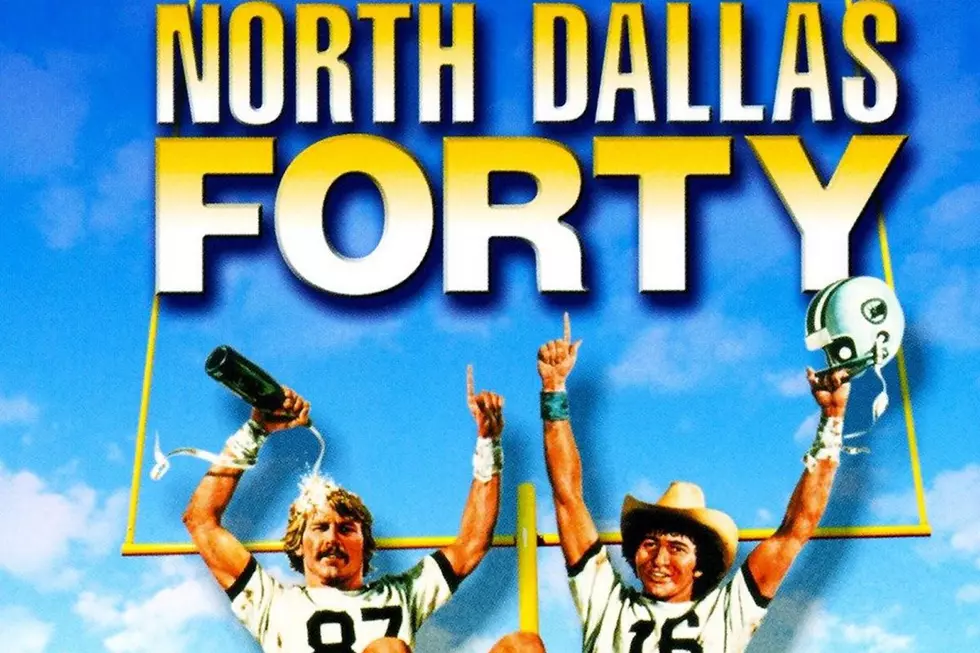 40 Years Ago: Nick Nolte Makes Sure 'North Dallas Forty' Breaks Every Rule
Paramount Pictures
North Dallas Forty is the football film that the NFL never wanted you to see. It's also a football film directed by someone with virtually no knowledge of the sport. And one that featured almost no football.
That's fitting, since football wasn't the point of the Peter Gent's best-selling novel, nor the Aug. 3, 1979 movie adaptation helmed by Ted Kotcheff and starring Nick Nolte, Charles Durning, John Matuszak, Dabney Coleman and country singer Mac Davis, in his first acting role.
Instead, North Dallas Forty was meant to tell larger truths about the way the sport was already turning into a money-first, player-disposing corporate Goliath. The men who suit up turn to distractions like drugs, drink and women to alleviate their aches, pains and worries, but time – as Nolte's character Phil Elliott is begrudgingly accepting – is not on their side.
"We only have about four minutes of actual football in this whole film," Nolte told Roger Ebert in 1979. "My character is a guy who's been playing since he was a kid, and it's hard for him to separate the reasons he likes playing football from the things that can make it a rotten business. The drugs, for example."
Nolte had played in a small-college setting, back in the early '60s, so he had a feel for what they were up against. In some ways, he said it prepared him well for a future career in Hollywood. North Dallas Forty, which arrived in book form in 1973, became a passion project.
"I knew what a brutal business football can be – both on and off the field," Nolte wrote in his autobiography Rebel. "And by now I could see parallels between how ball players and actors were often treated by people whose power over them could profoundly limit their options and sometimes even wreck their lives."
As North Dallas Forty showed, the coaches just want to keep the best athletes on the field, no matter the cost. The owners just want to win, no matter who suits up. The players are standing in between, grinding in the gears of pro sports. The late Gent should know: He was a wide receiver from 1964–68 for the Dallas Cowboys, on whom the book and film's North Dallas Bulls are very loosely based.
Watch the 'It's a Sport Not a Business' Scene
North Dallas Forty wasn't a memoir, as such. (Don Meredith, the quarterback for the Cowboys back then, famously quipped: "If I'd known Gent was as good as he says he was, I would have thrown to him more.") Still, it provided important insights into life in the NFL, most notably the league's hypocrisy about drug use. Nolte's beaten-up character, for instance, is asked to use an anesthetic in order to keep playing.
"The book this movie is based on was written before the big pro football crackdown on drugs," producer Frank Yablans told Ebert in 1979, "but when you show the book to a professional football player, he'll say this is wrong or that is wrong, but the part about the drugs is the only part that isn't over-exaggerated."
Nolte later said securing the services of Yablans – a hard-charging former studio head at Paramount – was the most important early step in realizing this dream.
"I couldn't help but believe that one of my life's important undertakings was going to be getting North Dallas Forty to the screen. Who better than me, after all?" Nolte wrote in Rebel. "And somehow, I was pulling it off. Paramount had committed to the movie, I would choose both the producer and the director, and the legendary [talent agent] Sue Mengers was now my my side. I felt like I had just scored on a 99-yard run from scrimmage."
Nolte says he hand-selected Ted Kotcheff, after seeing the director's work on The Apprenticeship of Duddy Kravitz with Richard Dreyfuss. "He won me over entirely when we first met and he confessed, 'Nick, I don't know anything about football,'" Nolte said in his autobiography. "That was exactly what I wanted to hear, and I told him the movie was much more about fighting corrupt institutions – any institution – than it was a sports film, and he had proven his chops as a dramatist a number of times over."
Yablans also pressed the initially disinterested Kotcheff, handing him a copy of Peter Gent's original publication.
"As soon as I got into the book, I realized this would not be the kind of sports film I thought I was turning down," Kotcheff told The Star in 2012. "In fact, it's a hard-hitting look at the manipulation that goes in this world. And I realized that Gent was a man who had the body of an athlete but the sensibility of a novelist. He really knew what went on inside pro football, and how the athletes were brain-screwed by those who really controlled the game."
Watch the Scrimmage Scene from 'North Dallas Forty'
Davis, who played a character loosely based on the colorful Meredith, had a smile that lit up the camera – but, like Kotcheff, virtually no experience with the sport. "He couldn't throw a football to save his life, but we were just making a movie, after all," Nolte said in his autobiography. "Mac only had to pretend he was a quarterback, and I was happy reviewers gave him glowing notices when the film premiered."
The country singer wasn't given any quarter, however, when they lined up on the field. Not with actual pro players serving as on-set extras. "You can bust something real easy on this picture," Davis told Ebert in 1979. "In the scenes we did last night, I took about six shots from [former American Football League offensive lineman] Doug France. He's 290, I'm 175."
Nolte then reached out to Fred Biletnikoff, hoping the Oakland Raiders' Hall of Famer would agree to come on board as a consultant for the film. Nolte later said he pictured the not-very-big, not-very-fast Biletnikoff as the on-screen role-model for Elliott, noting he was "a student and great practitioner of the game." They became inseparable during the shoot. Nolte worked tirelessly to imitate Biletnikoff's routine, right down to how he wore his pads.
It didn't exactly come easy for Nolte either: Despite rumors to the contrary, he had never played big-time ball. "That one started after I made North Dallas Forty," Nolte told the Chicago Tribune in 1994. "I went to Eastern Arizona Junior College, Pasadena City College – not Pac 10, Big 10 or any of that."
But Nolte soon had bigger problems than on-set preparation.
"The NFL did its best to torpedo the film once its administrators got word that we were in production," Nolte said in Rebel. "They hated the idea that we might tarnish their image if we demonstrated what second-class citizens its players were – regardless of their race – and how terribly crippled almost every veteran became. It was a wild ride, but with Pete's great story, Fred's inspired consulting, and wonderful performances from actors like Mac Davis ... I felt confident we were creating something special."
North Dallas Forty ended up grossing $26 million, against a production budget of $18 million. More importantly, it set a new standard for the way we discuss pro sports in general – and football in particular.
"Making North Dallas Forty was both a nightmare and a dream," Nolte added. "In my experience, sometimes these things are either luck or karma, and other times you must make change happen – remaining true to your own instincts, taking your own advice, and forging ahead to achieve what you believe is important. ... You can imagine how sweet it felt when the film was a financial success and a critical one as well. It was my film; I'd fought for it and bled for it and given it my all."
The Top Movies from Summer 1979
25 Interesting Rock Movie Facts
More From Sasquatch 92.1 FM