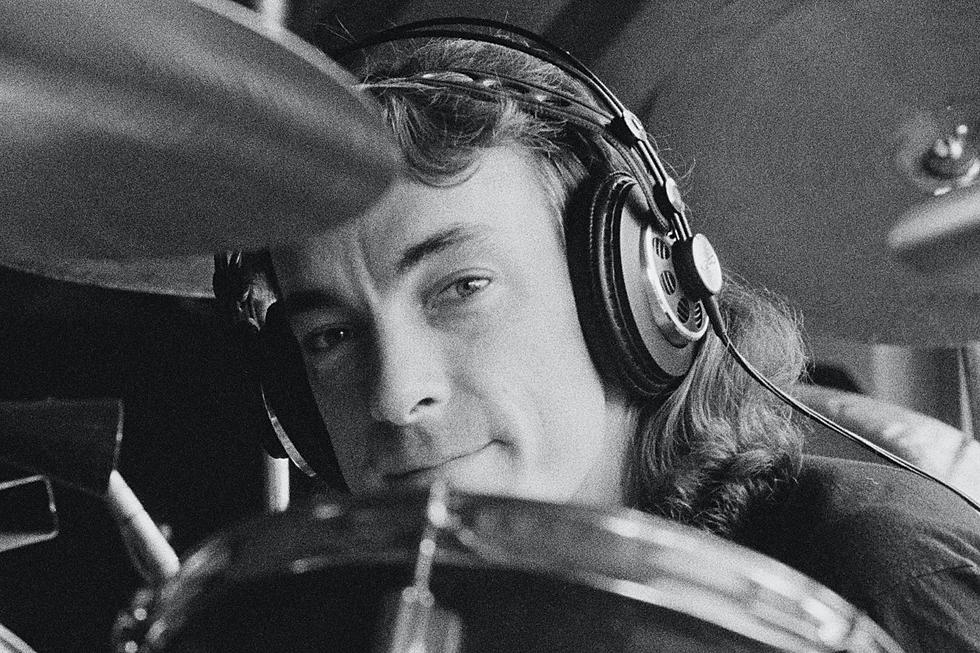 Neil Peart 'Spirit of Drumming' Scholarship Announces First Recipient
Fin Costello, Redferns
The Neil Peart Spirit of Drumming Scholarship, the drumming grant endowed by Modern Drummer in honor of the late Rush drummer initially announced several months ago, revealed its first recipient this week.
The winner is Maxx Rinkus, a sophomore at Clear Springs High School in League City, Texas, and a member of its Charger Band. In videos last year, Rinkus demonstrates drum covers of Rush's "YYZ" and Avenged Sevenfold's "Beast and the Harlot." On Thursday (March 3), he received the award in a remote ceremony with Peart's widow, Carrie Nuttall-Peart.
Watch the videos near the bottom of this post.
"Education was a big thing for Neil," Carrie says. "This particular award, out of a lot of other things, would mean such a great deal to him. He truly believed in passing on his knowledge and helping young people learn. It warms my heart and touches me because I know that he would love the fact that we're doing this."
The scholarship gives Rinkus 52 weeks of free drum lessons from veteran drum instructor Dom Famularo plus a one-year "all-access" subscription to Modern Drummer magazine and a selection of classic Rush albums courtesy of Universal Music.
Rush, who formed in 1968 and released 19 studio albums in their time together, stopped performing in 2018. Peart died of brain cancer two years later. In 2021, Rush guitarist Alex Lifeson said he's probably done with extensive touring altogether. Bassist-vocalist Geddy Lee has started on a memoir.
Last year, a collaboration emerged between Lifeson, Rage Against the Machine guitarist Tom Morello and Metallica guitarist Kirk Hammett. Also, the Ohio State Marching Band paid tribute to Rush.
Viral artist Nandi Bushell is another young musician aspiring to Peart's talent. A separate drummer recently paid tribute to Peart by playing 157 Rush songs in a video. A Rush pinball machine is coming soon.
Neil Peart Spirit of Drumming Scholarship 2022 Winner Announcement
Maxx Rinkus, "YYZ" Drum Cover (Rush)
Maxx Rinkus, "Beast and the Harlot" Drum Cover (Avenged Sevenfold)
Top 66 Hard Rock + Metal Drummers of All Time
More From Sasquatch 92.1 FM