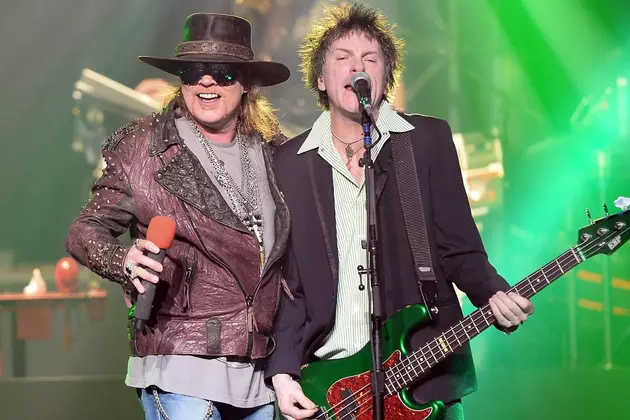 Ex-Guns N' Roses Bassist Tommy Stinson Says Axl Rose Is Misunderstood
Ethan Miller, Getty Images
A number of people have been surprised by the way this year's Guns N' Roses partial reunion tour has fired smoothly on all cylinders, but ex-GNR bassist Tommy Stinson certainly isn't one of them.
Stinson, who played with the band for nearly 20 years but exited prior to the return of founding members Slash and Duff McKagan for the current tour, spoke with Rock On Philly about a variety of topics recently — and the question of what it was like playing with one of rock's most infamously mercurial frontmen came up.
"That's one of the biggest misconceptions about him," Stinson said of GNR (and current AC/DC) singer Axl Rose. "He is a very hard-working dude that has a very particular way he wants to do things. I'll be honest with you, if he's doing anything other than what he wants to be doing and you're in the room, you don't want to be in there. But when he's doing what he wants to do, he's great and he's doing a great job."
To be fair, that sounds like most people. But Stinson's point is still well-taken, especially with regards to a string of tour dates that have drawn largely positive reviews while staying clear of Guns hallmarks like onstage outbursts and delayed starts. And just to underscore his enthusiasm for the current lineup, Stinson added that he's been to see them this year — more than once — and came away impressed.
"I've seen Guns N' Roses twice now with the whole band and he is kicking ass, and I'm very happy for him," he said. "I'm really happy for all my friends who are in that band."
Guns N' Roses Lineup Changes: A Complete Guide
More From Sasquatch 92.1 FM