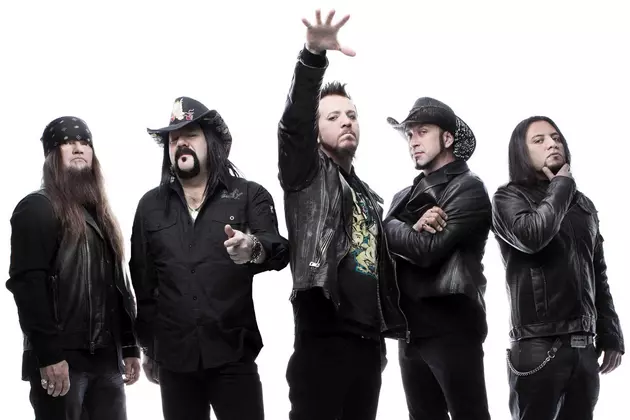 Vinnie Paul Saved My Life, Says Hellyeah's Chad Gray
Eleven Seven Music
Hellyeah singer Chad Gray said Vinnie Paul saved his life and that he'd been left "completely devastated" by the death of the drummer on June 22. The Pantera co-founder died in his sleep at age 54, triggering an outpouring of tributes from across the heavy music spectrum.
Commenting after Hellyeah colleague Tom Maxwell spoke of his own difficulty in dealing with Paul's death, Gray said on Facebook that he wanted "to say thank you to everyone around the world for your kind words, blessings and condolences to all of us through this tragic time. We love you all! And to all of my friends in and out of the music business, thank you for reaching out to me. It means more to me than I could ever express. I don't know what I would do without you."
He noted that "this has been one of the toughest things I've ever had to face in my life! I'm so confused, sad and as helpless as I've ever been. I'm at a loss and completely devastated. But I'm trying. It's the equivalent of an emotional riot in my head and in my heart as I write this. But I'm trying to focus on anything good. I know Vinnie would want that. And the good things are my memories of him. His smile, his infectious laugh and his personality that beamed light. Him and his brother Dimebag lived to make people smile. That's what I'm gonna miss the most."
Gray concluded by stating, "I just want to say thank you, Vinnie Paul! For saving my life, for your music, for your endless generosity, for accepting me into your life, for creating our music that touched people, for being proud to be in Hellyeah and for always treating me like a brother and more importantly for treating me like a friend. … And for all of those things you will live forever in my heart. And I will never let you go!!! I will always love you and go to the end of the earth to carry the torch for you and Dime's legacy."
In a radio interview over the weekend, Anthrax drummer Charlie Benante recalled having met Pantera brothers Vinnie Paul and "Dimebag" Darrell Abbott in 1985, and how he felt he had "friends in Texas" from that moment on. "The thing about Vinnie that, I think, not a lot of people know — maybe they do — but from a technical side of things, Vinnie made those Pantera records sound like that," he added. "He was the guy behind it all who was turning the knobs, EQing shit so that his kick drum wasn't fighting with Darrell's fucking chunky guitar. He was a lot of the brains and the glue that held that band together and, basically, pushed that band."
The cause of Paul's death is yet to be confirmed. It was reported via multiple sources that Paul had recently completed tracking drums for Hellyeah's next album, although the current status of the project has not been revealed.
Top 50 Metal Albums
More From Sasquatch 92.1 FM