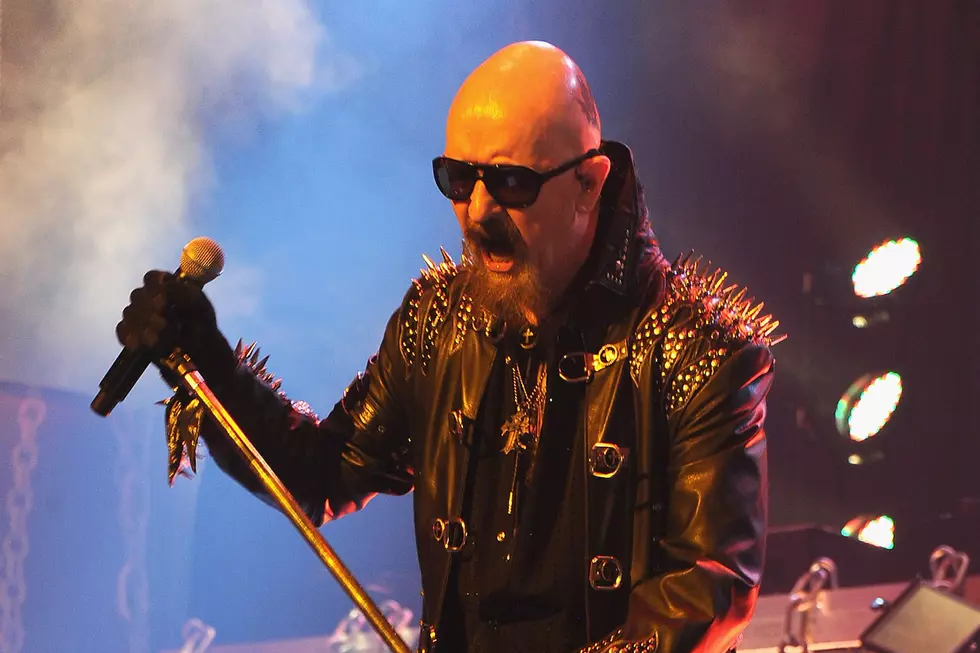 Judas Priest's Rob Halford on Retirement: 'We're Just Going to Keep Going and Going'
Theo Wargo, Getty Images
"The Priest will be back," says Rob Halford near the end of every Judas Priest show. But fans began to wonder how long that promise to return would hold up when Glenn Tipton revealed that his battle with Parkinson's Disease would leave him on the sidelines on the band's upcoming tour. Is the end nigh? In a new interview, the Metal God and bassist Ian Hill affirmed Priest are far from finished.
"I cannot conceive of us ever saying, in 2022, at 3 o'clock, on a Wednesday afternoon, July, we're going to end. I think more than ever now, we're so joyed and grateful that we've been able to get this far from the support of our fans that you don't say a farewell tour, you don't say retire," Halford said on The Metal Hammer Podcast (transcription via Team Rock). "I think slowly but surely we'll just play less and less and less, but I can't see that for the foreseeable future."
Hill chimed in, asking "Where don't you play?" when explaining that the band has fielded numerous tour offers as Priest gear up to support their 18th studio album, Firepower.
Commenting on the fans, Halford knows you have to give back to those who have supported you throughout the years. "You've got to go where your fans want you," he said, saying you can't hit certain places (A and B) and choose not to go to others (C). "You try to explain to them that you're not coming to B so they have to travel a thousand miles to A or C. We can't be that as a band, as people. So we're just going to keep going and going and the end will come when it chooses to show its face."
With Firepower out Friday (March 9), Priest will head back out on the road four days after the album's release with Saxon and Black Star Riders in tow on their North American run. Andy Sneap, one of the producers tapped for the record, will fill in for Tipton and the iconic axeman may make a surprise appearance onstage on any given night.
Judas Priest Albums Ranked
Judas Priest Play 'Wikipedia: Fact or Fiction?'
More From Sasquatch 92.1 FM