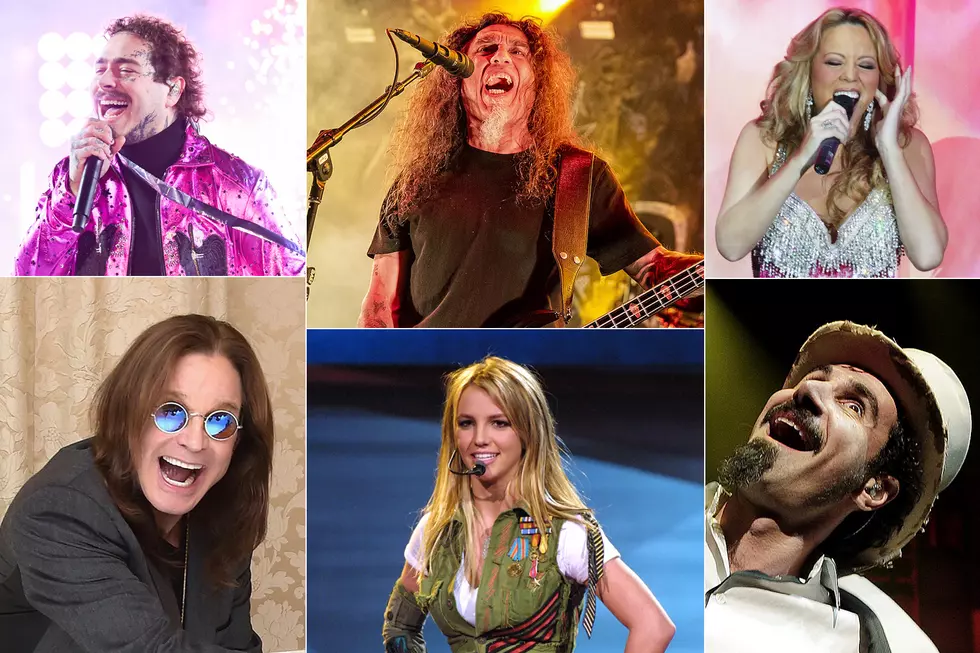 12 Times Pop Artists Covered Rock + Metal Songs
Noam Galai, Stringer/Getty Images / Scott Legato, Getty Images / Michel Porro, Getty Images / Scott Gries, Getty Images / Kevin Winter, Getty Images
It doesn't happen all that often, but every now and then a pop star/mainstream artist elects to cover something hard and heavy. The results are quite varied, ranging from surprisingly impressive to just plain dreadful and, here, we examine 12 Times Pop Artists Covered Rock and Metal Songs.
Counted among the surprises are indie rock group The Cardigans. They've covered a handful of Black Sabbath songs throughout their career and opting to take on the devastatingly heavy "Sabbath Bloody Sabbath" was downright bold, but it paid dividends.
As for the ones we'd like to forget ever happened, that distinction certainly belongs to Avril Lavigne, who bravely performed System of a Down's "Chop Suey!" onstage. It is downright obnoxious, proving that only a select handful of bands can truly pull of such a whacky, over-the-top dynamic as perfected by System.
Now, let us take you through the great, the ugly and everything in between below.
Tori Amos, "Raining Blood"

Originally by Slayer

Tori Amos is the closest music gets to just being a whisper, which puts her at odds with the very notion of attempting to cover Slayer, nevermind taking on their masterpiece metal hymn, "Raining Blood." But this cover is heavy in a different way altogether. The overbearing emptiness on display invokes an even more sinister chill when lyrics such as "Fall into me, the sky's crimson tears / abolish the rules made of stone" gently creep into play.

The Cardigans, "Sabbath Bloody Sabbath"

Originally by Black Sabbath

We could have flooded this list with Sabbath covers by Swedish indie pop darlings The Cardigans. They come from a pretty metal country, so maybe it isn't that surprising that there's this deep-running obsession with Black Sabbath within the group.

Anyway, we opted to highlight "Sabbath Bloody Sabbath" because it's undeniably a Top 5 heaviest song by the godfathers of heavy metal. We're still not really sure how The Cardigans pulled this off so successfully. Every instinct says to run — fast and far — away from the very idea of this type of cover, but that's just the eilitism demon standing on our left shoulder trying to make us an uptight jackass.

Britney Spears, "I Love Rock 'N' Roll"

Originally by Joan Jett and the Blackhearts

We love rock 'n' roll, you love rock 'n' roll and pop star Britney Spears evidently loves rock 'n' roll. What we don't love is this haphazard cover of Joan Jett and the Blackhearts' energetic call to arms (which itself is an Arrows cover).

Gone is the booming, distorted guitar, though one look at the guitarist in the video would have you thinking he's got that amp cranked to 11. This is a failed try-hard attempt to make Spears appeal to an aging rock crowd in the early 2000s while she had already ensnared an entire teenage and young adult generation.

Post Malone, 15 Nirvana Songs

Originally by Nirvana

As if you didn't already know, Post Malone is a fucking rocker. Sure, his career is at the intersection of pop and rap, but the dude's roots are entrenched in rock and metal. We were originally going to feature his cover of Metallica's "Nothing Else Matters," but then he did a coronavirus benefit show with Blink-182's Travis Barker and played 15 Nirvana covers in one go. The biggest "too-cool" moment? Posty didn't even bother with "Smells Like Teen Spirit."

Mariah Carey, "Bringin' on the Heartbreak"

Originally by Def Leppard

Whistle-tone-capable ear-piercer Mariah Carey took on a hair metal classic in 2002, a year where hair metal remained far removed from the mainstream, resigned for '80s hangers-on pining for a return to the golden age of rock debauchery. This cut off Def Leppard's 1981 album High 'n' Dry gets stripped of its rock leanings and is a wholesale R&B makeover that finds Carey hitting notes so high that we think we just saw a pack of dogs run by in obvious distress.

Charles Bradley, "Changes"

Originally by Black Sabbath

If you watch Netflix's adult-oriented cartoon series Big Mouth then you're already familiar with this one as it is featured as the show's theme song. Soul singer Charles Bradley issued an album titled Changes in 2016, which contained a powerful version of Black Sabbath's iconic piano ballad bearing the same name.

Supported by pond-skipping guitar melodies and a robust horns section, Bradley's dominant voice conveys the themes of heartache in a way Sabbath simply never could have.

Avril Lavigne, "Chop Suey!"

Originally by System of a Down

Almost all of the pop-gone-rock/metal covers here are actually veritable renditions of some of our most beloved songs. As is often the case, there are exceptions to every rule and Avril Lavigne's live take on System of a Down's rowdy Toxicity hit "Chop Suey!" is that exception. The audio quality here is (mercifully) a struggle. The band sounds fine, but Lavigne comes off as an Alvin and the Chipmunks cassette tape in the midst of being fast-forwarded.

Johnny Cash, "Hurt"

Originally by Nine Inch Nails

When people think your cover song is an original, you've done a pretty damn good job. For outlaw country legend Johnny Cash to adapt his style around what was originally a towering industrial song by Nine Inch Nails seemed unthinkable, considering artists 10 years apart take issue with generational music. Cash's spin on "Hurt," which was on NIN's 1994 record The Downward Spiral is one of the most incredible examples of the fluidity of music and that a great song is a great song, no matter what style it's played in.

Johnny Cash, "Rusty Cage"

Originally by Soundgarden

The '90s was a time of great suffering for artists who rose to popularity in the '80s, at least for metal. Country icon Johnny Cash, however, did not fare well during that decade, but his career took a surprising turn upward during the '90s as Rick Rubin (the same guy who signed Slayer to a hip-hop label and encouraged Glenn Danzig to form the Danzig band) took him under his wing.

On his 1996 album Unchained, Cash dipped his toes into the grunge waters when covering Soundgarden's defiantly heavy "Rusty Cage," of course, on his own country-oriented terms. Cash was ultimately nominated for Best Country Vocal Performance in 1998 for his version of the Badmotorfinger track.

Hilary Duff, "My Generation"

Originally by The Who

Disney Channel star Hilary Duff was wrapping up her career on the hit TV series Lizzie McGuire and commanded the attention of an audience that was in the crosshairs of Kidz Bop compilation disc advertisements. It only made sense for actress Duff to begin her transition from TV star to musician with a bop-about cover of The Who's infectious "My Generation."

Naturally, the lyrics were altered to, "I hope I DON'T die before I get old," and telling tweenagers that old age is something to look forward to comes off as profoundly perplexing and, well, kind of stupid.

Dolly Parton, "Stairway to Heaven"

Originally by Led Zeppelin

"Stairway to Heaven" is one of those rare transcendental hit songs where its popularity only grows as time rolls on. Either you've heard it so many times it makes you sick every time you hear it or you still can't get enough. If you're the former, maybe you just need a fresh take on things and this Dolly Parton rendition should ease that curiosity.

Zeppelin's blues roots makes the transition to country/bluegrass an easy pill to swallow and Parton was wise to give her version a little swing that's accentuated by those massive gospel choirs.

Chelsea Wolfe, "Black Spell of Destruction"

Originally by Burzum

First off, let it be made clear that Burzum leader and convicted murderer Varg Vikernes is scum incarnate. His reprehensible racist agenda never infiltrated his music, however, and, ultimately, it's up to you as to where you want to draw the dividing line. All we know is avant-garde specialist Chelsea Wolfe's music-by-way-of-sleep-paralysis tackled Burzum's trance-inducing "Black Spell of Destruction" in a revamped, nightmarish dream state.
More From Sasquatch 92.1 FM