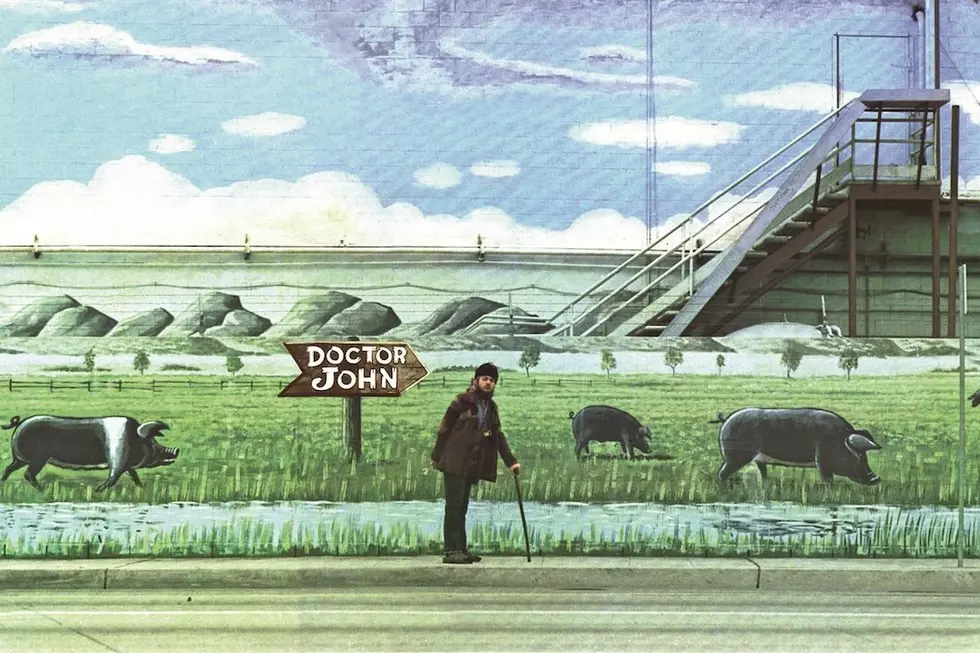 How Dr. John's Rootsy 'Gumbo' Set Stage for Breakthrough
Atco
This was no accident for Dr. John. The former Mac Rebennack purposely discarded his initial Night Tripper persona for a rootsy homecoming on Dr. John's Gumbo, drawing a newfound group of psychedelic rock fans deeper into the culture – rather than the often-outlandish voodoo-related gimmickry – of his hometown of New Orleans.
Released on April 20, 1972, Dr. John's Gumbo included rambunctious covers of local fare like "Iko Iko," "Stack-A-Lee" and "Junko Partner" – songs that had already defined the Crescent City sound. They finally broke a Mardi Gras-themed fever for Dr. John, providing a platform for a more funk-focused breakthrough the following year.
Part of it was a desire to connect the musical dots, and part of it was about the money.
Dr. John's Gumbo, he said in the album's liner notes, was "like a picture of the music New Orleans people listen to – a combination of Dixieland, rock 'n' roll and funk. ... This album could very well be called More Gumbo, Less Gris Gris. There isn't any what you might call voodoo rock or 'gris-gris,' because my producers and I thought that the people might enjoy hearing the root music from New Orleans, which was maybe the chief ingredient in what we know today as rock 'n' roll."
Prior to the LP's release, Dr. John had spent an inordinate amount of time on a projected three-album set to to be titled The Sun, Moon and Herbs. Sessions in London included contributions from Eric Clapton and Mick Jagger, but the tapes either went missing or were deemed largely unusable. Rebennack ended up paring the remaining songs down to a single album, but not before finding himself deep in debt.
Atlantic president Jerry Wexler, who had recorded a number of Dr. John's early idols including Professor Longhair, stepped in with a suggestion to do a series of New Orleans standards. In looking back, Rebennack ultimately got back on track.
Listen to Dr. John Play the 'Huey Smith Medley'
Dr. John's Gumbo became "both a tribute to and my interpretation of the music I had grown up with in New Orleans in the '40s and '50s," he told LookOut in 2010. "I tried to keep a lot of the little changes that were characteristic of New Orleans, while working my own 'funk-nology' on piano and guitar."
Along the way, a new generation came to discover figures like Professor Longhair, who saw a late-career resurgence before dying at age 61 in 1980.
Dr. John, who played on Longhair's Carnival standard "Go to the Mardi Gras" as an 18-year-old, was a direct descendant of that piano-playing style – having learned it from the late New Orleans legend Allen Toussaint and Huey "Piano" Smith. As a young sessions player, Dr. John also crossed paths with Earl King, who subsequently had a notable impact on both Jimi Hendrix and Stevie Ray Vaughan.
He drank it all in, and later fondly recalled some key career advice from Professor Longhair: "'If you want what I got, just do what I do, and then you'll be solid, through and through,'" Rebennack told Yahoo Music. "And that was a certain thing that was special about 'Fess.'"
All of those influences made their way into Dr. John's Gumbo, which featured a pair of Professor Longhair-related standards, including "Tipitina." King wrote both "Big Chief" and "Those Lonely Nights." Throughout, Dr. John held a steadfast focus on replicating the music of those who came before. "I can play 'Tipitina' with dozens of variations without ever getting away from Professor Longhair," he said in the album notes. "The version I'm playing here is pure classic Longhair."
Listen to Dr. John Play "Iko Iko"
Rebennack also covered two complete songs from Smith ("Blow Wind Blow" and "Little Liza Jane"), as well as a three-track medley that he discussed in a 2016 interview with Billboard. "Huey was my partner and he will always be my partner," Dr. John said. "I love this cat. He's a piece of work, and a half. I remember Huey had 'Don't You Just Know It,' 'High Blood Pressure' and 'Well, I'll Be John Brown.' 'You ruled me once. I was a fool for you. I ain't gonna stand your foolin' around. If I do, if I do, well, I'll be John Brown.' And 'dat is one of my all-time favorite records."
At this point, that history was entirely lost. Dr. John may not have improved upon the originals, but he gave them a new resonance for younger folks who might have forgotten them forever. Moreover, it seemed these ruminations had a centering effect on Dr. John, who fondly remembered a lyric-writing talisman given to him years earlier by Smith.
"It was just a book of poems – great poems – and every one of them made sense," Dr. John told Billboard's John Wirt. "Every one of them had this thing to do where it was a blessing. I remember that I got 'A Losing Battle' (a Top 30 R&B hit for Johnny Adams in 1962) from that book. I got the lyrics for a lot of songs from it."
His over-the-top Night Tripper guise – one part glittery Haight-Ashbury hepcat and two parts rhythmic hoodoo-man – was set aside for good. "I gave up my identity, and it became a monster," Rebennack admitted in a talk with the Los Angeles Times. "We became exactly all we hated about psychedelia."
By 1973, Dr. John was collaborating with Toussaint on a similarly direct, ultimately career-making follow up to Gumbo. Titled In the Right Place, it was powered by the No. 9 smash "Right Place Wrong Time," along with the fan favorite "Such a Night" – and became the biggest-selling album of Rebennack's career.
See Dr. John in the Top 100 Albums of 1968
More From Sasquatch 92.1 FM