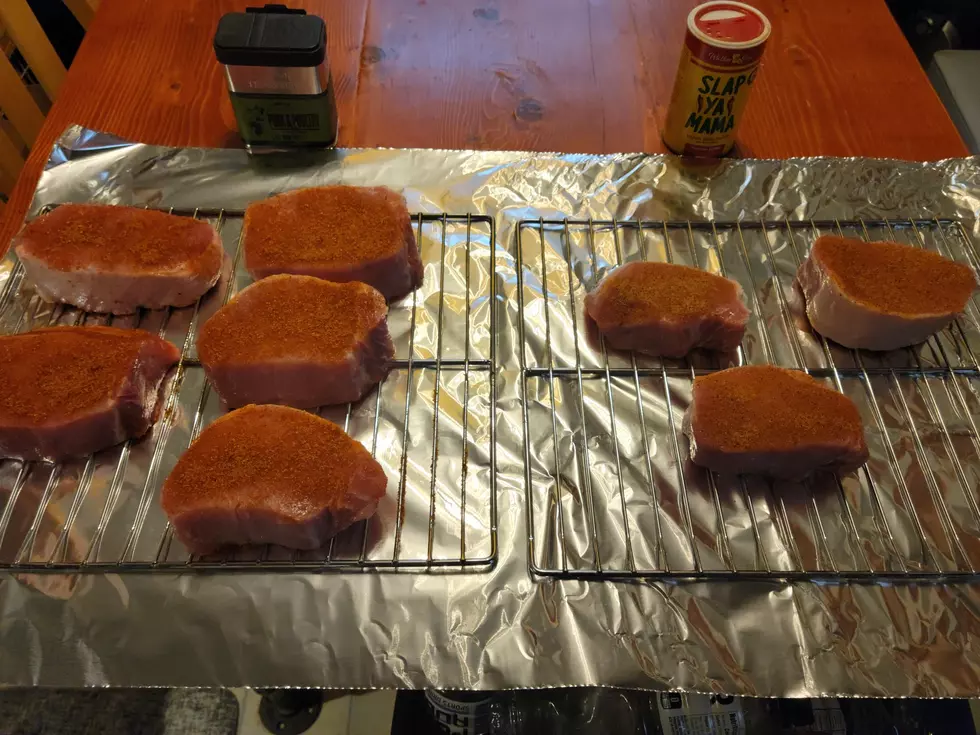 How Successful Was My First Time Smoking Pork Chops?
Pork and Seasoning- Photo Credit: Joe Danger
I'm still learning how to smoke a variety of delicious foods with my Masterbuilt Electric Smoker, and sometimes things turn out great, other times not so much.
This weekend I tried smoking pork chops.  These weren't anything special, just thick cut pork chops from Costco.  Normally an item I would cast iron fry or straight up charcoal grill, but I saw a lot of people smoke them.  I've had smoked chops in the past from several butcher shops and those were good, so I went for it on my own.
I didn't get too fancy with my recipe and went with Oklahoma Joe's Applewood Chips for the smoke.  As far as seasoning goes, I opted for two different types.  A coated both sides of the chops with a little olive oil, and then generously added Slap Ya Mama Cajun seasoning to some.  On the rest, I used Traeger Pork and Poultry Rub, which I had never tried before.
To smoke the chops, I preheated the smoker to 225 degrees, and once it was there, I added some wood chips to get that rolling, and then put the chops in.  For pork chops, you want an internal temperature of 145 degrees with a three-minute rest.  That should yield juicy and safely cooked pork.
Even with the thickness of the chops, they cooked incredibly fast.  Everything you see pictured was at final desired temperature in about 70 minutes.  I had assumed it would be closer to 90-100 minutes until done, but sometimes meats get there faster.  Even my expert smoking buddy Tig who runs Tig's Smok'n Pig BBQ, says that once in a while certain cuts aren't predictable for cooking times and need to be watched closely.
For the final product taste test, they were just okay.  The pork was juicy, but they were pretty tough cuts.  Also, not as much smoke flavor as I had hoped for was noticeable in the meat.  The never used before rub from Traeger wasn't too impressive to my taste buds either.
I won't call it a smoking fail as it was filling and edible, they just lacked the deep flavor I was hoping for.  I may try hitting them on a hot charcoal grill before or after next time, and also cooking them at a lower temp.  If you've tried smoking pork chops, what were your results?
Things You May Not Have Thought About Grilling
More From Sasquatch 92.1 FM